A-Z Meridian Manual - Printed Version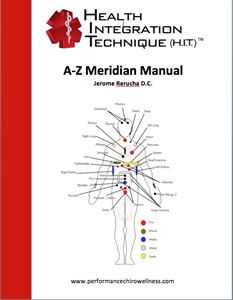 A-Z Meridian Manual - Printed Version

Online Version Cost $9.99/month (minimum one year)
This 155 page Meridian A - Z Manual was created to assist practitioners, who are expert in a specific healing art (chiropractic, Rolfing, physical therapy, naturopathic medicine, MD's, DO's, licensed massage), in applying an additional, simple and beneficial treatment for their patients using the meridian system with confidence and accuracy. The meridian system in the human body is the basis for many different healing modalities. There are specific acupuncture points along the meridians. These points are electro-magnetic in character and together they form the matrix within which the body functions. They also act as a network of communication between the physical and the more subtle energetic bodies. The stimulation of specific points along the meridian system relates to the specific area within the body that is in need of healing. A variety of methods may be used to stimulate these points; the use of needles, acupressure, electrical stimulation, micro-current, press pads, or magnets etc. My personal favorite is the use of Low Level Laser Therapy with its amazing regenerative and cellular communication benefits combined with the use of specific points, along the meridians, to achieve some of the most beneficial clinical applications, ever! This process works because the point being stimulated lies on a meridian whose energy also passes through the injured or diseased part of the body; the use of the laser on a specific acupuncture point can be transmitted along the meridian to a place within the body that is in need of healing. This manual will also be beneficial to those who have dedicated their professional careers to that of being an expert licensed acupuncturist by providing an incredibly useful resource (reminder) to use in their day to day treatment procedures.
The A-Z Meridian Manual Covers:
Testability and Switching
Auricular Therapy
Auricular Points for Addiction, Smoking and Weight Loss
Governing Vessel – GV
Conception Vessel – CV
Gallbladder – GB – Yang – Wood
Liver – LV – Yin – Wood
Lung – LU – Yin – Metal
Large Intestine – LI – Yang – Metal
Stomach – ST – Yang – Earth
Spleen – SP-Yin-Earth
Heart – HE – Yin – Fire
Small Intestine – SI – Yang – Fire
Bladder – BL – Yang – Water
Kidney – KI – Yin – Water
Pericardium – P – Yin – Fire
Triple Warmer - San Jiao – SJ – Yang – Fire
Appendix I: Reference Images

(21 pages of color anatomy charts with meridian points)

Appendix II: Meridian Manual Symptom Chart

(42 pages of symptoms & their corresponding meridian points)
STANDARD SHIPPING IN THE LOWER 48 STATES INCLUDED IN PRICE
Contact Us for shipping to locations outside the lower 48 states.
Reviews