Clinical Grip Training Kit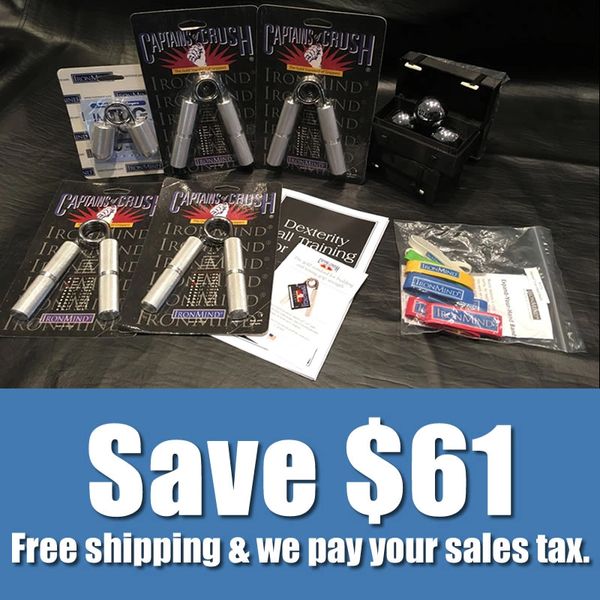 Clinical Grip Training Kit
Save $61 off retail when you buy this kit.
Shipping & Handling Included in Price.
This Kit Includes
Level 1 TUG for fingertip training (Flexor Digitorum Longus, Flexor Pollicis Longus) 
4 progressive Gold Standard Grippers most applicable for neurological clinical use; with or without Low-Level Laser Therapy. Includes basic directions. 
60 lb called the "Guide" for beginners, seniors, rehab and females

80 lb called the "Sport" for beginners, rehab and females
100 lb called the "Trainer" for beginner men, rehab 
120 lb called the ".5 " for beginner men, rehab 
3 Dexterity Balls - these are perfect for those who want nimble healthy fingers and building neuroplasticity for life. Includes basic directions. 
"Extensor Rubber Bands" - Progressive band set for the extensor muscles of the hand and the extensor neurology. Calibrated for the ultra beginner and progressive colors and tension for your healthiest clients. 
Grip strength is one of the most accurate human metrics to measure a person's overall health, known for well over a hundred years, and is extensively published in the PubMed database. The educational value of testing and improving the person's Grip Strength is taught in detail with the FitnessIntegration Technique (F.I.T.)® System.
Captains of Crush Grippers are the Gold Standard gripper and the only one in the world that is allowed in competition. Your clinic should only provide world class exams and world class corrective solutions. That is why Fitness Integration Technique (F.I.T)® uses Captains of Crush Grippers only. Every physiological window taught provides the world class standard. 
Reviews