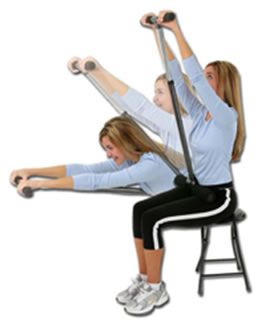 CoreStretch
"CoreStretch™ has been one of the best devices I have ever used for my own flexibility training; as well introducing to hundreds of doctors so their patients can experience these amazing benefits at home and in their clinics." Jerome Rerucha D.C.

CoreStretch™ was designed with the understanding that all action initiates from the body's trunk (or core). Unlike conventional stretching methods that force the back to curve, the unique design of the CoreStretch™ elongates the back, enabling a deeper, more effective stretch of the muscles, tendons and ligaments surrounding the core of your skeletal system and legs from beginners to advanced levels of flexibility. You can increase your range of motion, prevent injury, reduce pain, or speed up your recovery with CoreStretch™!

The three-plane swivel enables up-and-down, side-to-side, and twisting motions for all major muscle groups -- back, hips, hamstrings, shoulders and glutes. Light-weight and collapsible, the CoreStretch™ can conveniently be taken to the office or job site to be used daily, even several times a day. The CoreStretchTM easily fits in your clinic, at home or breaks down easily to fit in any travel carry-on.
CoreStretch™ provides relief for:
Back pain
Shoulder pain
Tight hamstrings
Piriformis pain •
Knee pain
Pelvic and groin muscle pain
Inflexibility
Arthritis
Osteoporosis
Fibromyalgia
Sciatica
Shin splints
A complete manual comes with your CoreStretch™ describing 16 different stretches for beginners and advanced levels of flexibility.
STANDARD SHIPPING IN THE LOWER 48 STATES INCLUDED IN PRICE
Contact Us for shipping to locations outside the lower 48 states.
Reviews