Fitness Integration Technique (F.I.T.)® Level 1 Program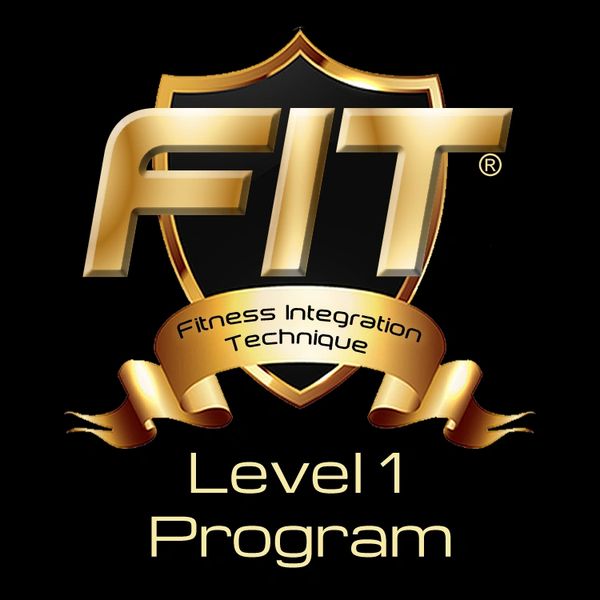 Fitness Integration Technique (F.I.T.)® Level 1 Program
Upon completion of purchase you will be emailed your License Agreement and Registration Instructions within 24 hours.
Fitness Integration Technique (F.I.T.)®
is a standardized, active, reproducible, progressive system of patient/client evaluation at each of the following levels: neutral posture, movement, function, and performance. The F.I.T.® Active Examination And Prescribed Treatment System is used to determine symmetry, asymmetry, of structural misalignment, neurological imbalance and the flexibility/inflexibility of hard and soft tissue components resulting in a three-dimensional "body map." This reproducible Body Map System will not only help you become a better examiner, but the F.I.T.® Active Examination And Prescribed Treatment System will also show the keystones and communicate the need for a program including Laser, Percussor and Adjustor treatments to the client more visible than ever.
The results of the F.I.T.® exam also implement to create a prescription of Clinical Exercises along with your current method of treatment to enhance every phase of care, unique to the patient's soft tissue, structural and neurological asymmetry and weaknesses clearly measured and scored upon examination and re-examination: not just symptomatic need.
The F.I.T.® System can be used on the typical patient to enhance clinical outcome but when mastered F.I.T.® will help the clinician attract the responsible, proactive client that needs a Performance Practitioner to prevent injury and correct imbalances so they can thrive in their fitness passion of choice.
The uniqueness of the F.I.T.® Active Examination And Prescribed Treatment System has received a registered trademark and is only made available as a licensed product to those who purchase.
E-Manual
The first component of the F.I.T.® Level 1 System is our 141 page E-Manual that can be printed or viewed on a computer, tablet or smartphone. This E-Manual contains:
28-page introduction




49 pages of F.I.T.® Level 1 exams with links to exercise and examination videos




37 pages of Myotome exams with links to instructional videos




Reproducible exam sheets (grid charts)



Exam & Exercise Videos
Each exam and myotome include a detailed written description plus links to related Exam and Exercise Videos. There is approximately 1 hour of video explaining the appropriate exam techniques and the primary clinical imbalances you are being trained to look for.
Case Studies
Also, you get to view video case studies where Dr. Jerome takes a new patient all the way through the F.I.T.® examination. The video details the report of findings using X-ray prior to the first visit, watch the first treatment implementing additional chiropractic examination and corrective treatment using Erchonia Laser, Percussor, and Adjustment technique based upon the particular F.I.T.® three-dimensional Body Map. Each case study comes with an extensive powerpoint presentation narrated by Dr. Jerome where you learn the further detail of the integration of the complete F.I.T.® exam. The presentation includes slow motion video analysis using the grid charts, scoring the F.I.T.® grid picture, x-ray analysis integrating each F.I.T.® exam, creating the step by step Body Map and identifying the keystones that lead to treatment and Clinical Exercise program design. A case study is 2 - 3 hours of additional in-depth instruction showing the advantage that is only provided by a trained F.I.T.® practitioner over anyone or any system in the clinical or exercise industry.
The F.I.T.® examination benefits are equally important for better educating the typical patient who is only concerned about symptomatic relief. The F.I.T.® examination presents obvious imbalances anatomically related to their symptom but also educates on obvious contributing imbalances away from their primary concern. Even the symptomatic concerned patient is more likely to participate in a higher level of care when made better aware of contributing factors that can be changed.
The F.I.T.® System is ultimately created to attract the active strength and fitness client, youth or adult, in your community, who currently is not coming in for services but is engaged in recreational or formal exercise training, and is used as a performance evaluation involving your expertise.
The cost of Fitness Integration Technique (F.I.T.)® Level 1 is currently only $649.00. This is a limited-time introductory price. Fitness Integration Technique (F.I.T.)® Level 1 includes a password protected web access to all the written training materials, digital exam pictures, educational videos explaining the proper technique of exams and each exam has an additional video explaining the findings of imbalances and asymmetries and in-depth case study start to finish. F.I.T.® Level 1 also includes customizable grid charts and the detailed digital exam grid pictures that allow you to record and score the client findings on the provided (F.I.T.)® paperwork.
The goal of Fitness Integration Technique (F.I.T.)® is to enhance communication between trained clinicians, regular patients and the ability for practitioners to be invaluable to the strength and fitness clients of all ages and levels, and to improve the results. Each clinician and performance specialist will excel in "active" examination procedures and provide a treatment solution of specific, prescribed "Clinical Exercise" programs to correct and optimize beyond the concept of ideal neutral posture. The results will enable the patient/client to graduate to optimum flexibility, strength, balance, and agility in their movement, function and performance patterns administered by you: The Recognized Expert In Human Biomechanics Using Fitness Integration Technique (F.I.T.)® Active Examination™."
Please note:
All purchasers of the Fitness Integration Technique (F.I.T.)® must agree to be bound by the End User License Agreement. Upon purchase you will be prompted to electronically sign this agreement before being allowed to login to program.
Reviews