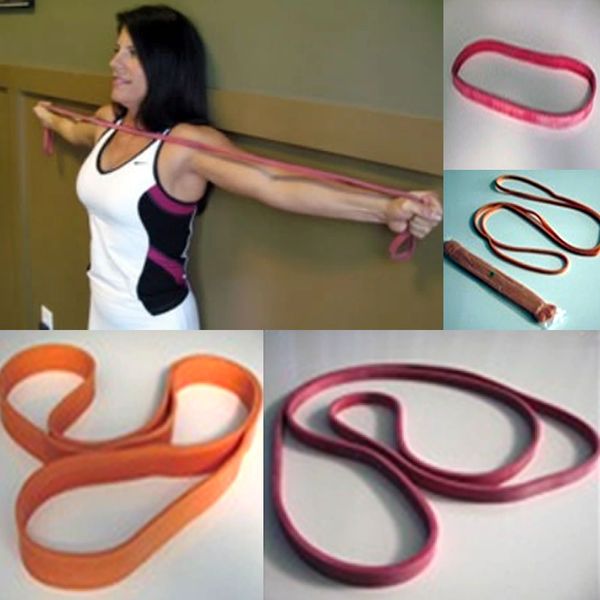 Rehab Bands
Proper neurological function, proper spinal alignment, enhanced flexibility and strength through increase range of motion is a necessary formula for a long, active, healthy and pain free life. CoreStretch™ and Rehab Bands are the perfect combination to add to any clinic wether you currently offer rehabilitation services or you thought you didn't have the space, time, or finances to invest in equipment. The CoreStretch™ and Rehab Bands work with all your Erchonia Laser, Percussor and Adjustor protocols. The results are undeniable!
The Rehab Band Set includes 1 Rehab Light Band, 1 Rehab Mini Band, 2 Rehab Micro Mini Bands and 1 Rehab Short Mini Band.
| | |
| --- | --- |
| | The Rehab Light Band is orange; 1 1/8" width, 41" long, and 4.5mm thick. There are 15 layers of latex on each band. Ideal for the client that is used to working out and needs to strengthen the sacral-pelvic area to become and maintain injury free. |
| | The Rehab Mini Band is red; ½" wide, 41" long, 4.5mm thick, and 15 layers of latex. Perfect for individuals in clinic that are being introduced to Side Bends, X-band Walks and Band Side Steps. The main band used for anyone who works out (at any level) for upper body postural correction. |
| | The Rehab Micro Mini Bands are orange; 1/4" wide, 41" long, 4.5mm thick. Two Rehab Micro Mini Bands are included with your order. This is the band that will be used for medicare patients in maximizing postural correction (upper and lower body), or to help individuals on the comeback of acute injuries by driving neurology to create proper neuroplasticity and increase circulation. Commonly used by athletes of all levels (youth - elite) for warming up and performing prehab / rehab strengthening of all muscles and ranges of motion of the shoulders. |
| | The Rehab Short Mini Band is red; ½" wide, 12" long, 4.5mm thick, and 15 layers of latex. is great for unilateral side bends, Short Band Side Steps and more...get creative! |
STANDARD SHIPPING IN THE LOWER 48 STATES INCLUDED IN PRICE
Contact Us for shipping to locations outside the lower 48 states.
Reviews