Pressure Point Balls - Levels 1 & 2 - Set of Four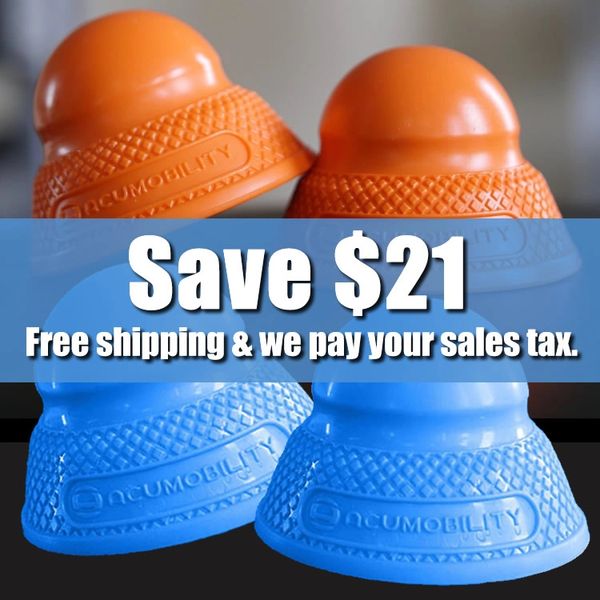 Pressure Point Balls - Levels 1 & 2 - Set of Four
For decades, exercise enthusiasts have attempted "self-help" soft tissue work using a variety of tennis balls, baseballs or other soft balls trying to break up localized adhesions. This method proved to be a somewhat effective therapy, but was less than ideal. The attempt to position oneself on an unstable corrective device, in order to isolate a specific point of need, often proved to be an exercise itself! When placing two of the same balls in a sock to break up bilateral tension along the spine the result usually ended in self talk such as; "That is better but not quite where I needed it the most".
Pressure Point Balls are featured in our Advanced Percussor & Adjustor Techniques Video.
Pressure Point Balls Promo from Jerome Rerucha D.C. on Vimeo.
An age-old need has finally been perfected. Pressure Point Balls are great self-help for any individual.
The Level 1 Ball (orange) is the go to ball for trigger point release and stability exercises and is firm enough for most deep pressure release.

The Level 2 Ball is significantly firmer than the Level 1 Ball and is meant to be used for extra deep pressure and release.

Use two Pressure Point balls for perfect spacing along the spine, or any combination of bilateral correction such as right and left shoulder blades, upper trapezius muscles etc.

Pressure Point balls also a fantastic hand saving tool for practitioner use during Massage, Active release and Trigger Point work.
Benefits:
Increased range of motion and flexibility by performing trigger point and myofascial release.

Helps reduce muscle soreness and restriction for better recovery and sports performance.

When coupled with Active Mobilization Movement the Pressure Point Ball(s) help to re-pattern faulty movement patterns and improve athletic performance.

Increases circulation and oxygen transportation to the muscle.

During stability and strength exercises, the Trigger Points Balls challenge balance for increased proprioception, such as performing push-ups with one in each hand.
Features:
Pressure Point Balls provide an unstable surface when used as a handheld stability ball. This method increases the challenge to proprioception and makes upper body exercises, such push ups, more challenging.

The patent pending non-slip flat base is designed to keep the ball in place whether it is on the floor, wall or other surface.

Patent pending oval flexion point allows the ball to maintain constant contact on a trigger point or tight muscle.

Ease of use is perfect spacing to be used on the back with the spine sitting between the balls…..you will be amazed when you try this!

The ball can also be placed in the freezer overnight and used as a cool therapy tool for sore aching muscles.

The material is a food grade safe blend of silicone, which is incredibly durable and puncture resistant as well as kid and animal safe.
Level 1 vs Level 2 Ball:
There are two versions of the ball: LEVEL 1 and LEVEL 2.
The Level 1 Ball is firm enough for most deep pressure release.

The Level 1 Ball is our go to ball for anyone doing challenging mobility and stability exercises

The Level 2 Ball is significantly firmer, silicone ball, than the LEVEL 1 Ball and is meant for more intense muscle work and even deeper pressure.

The Level 2 Ball may be used as an introduction to stability exercise. It is not as unstable and therefore easier.

It is our recommendation that you begin your soft tissue correction with the Level 1 Ball and once you are ready to move on to a deeper release then advance to the Level 2 Ball.
Areas such as the glute muscles or individuals or areas of the body with extra padding may benefit application from a Level 2 Ball immediately.
An advantage to purchasing the Pressure Point Balls - Levels 1 & 2 - Set of Four is to progress when appropriate. Plus you'll save money on the set!
Reviews